I came of age in post-WW2, London, still rebuilding from the Blitz — as kids we played in the rubble of the bombed out shells of houses on our block — nourished by the legend of Dunkirk, its David and Goliath dimension, its pulling out all the stops solidarity.
Watching Christopher Nolan's film "Dunkirk" I identified with the small boats swarming to rescue soldiers on the beaches. Working to establish a global palliative care culture feels a bit like that: engaging with a handful of colleagues in an all hands on deck effort to humanise care for people at the end of life. Setting off unarmed in our small boats in a flotilla to take as many of our fellows as we can aboard and head for home.
Palliative care and hospice units around the world are, almost without exception, nimble operations that barely survive on charity funded shoestrings: the small fry in a big institution, highly professional yet receiving the least recognition. Palliative care providers tend to be those who forgo the limelight in exchange for the privilege of accompanying patients and caregivers through the rough waters of serious illness and dying. In modern societies that stigmatize older age, dying, illness that cannot be cured through heroic healthcare efforts, palliative care practitioners run headlong into the trouble, preparing for the worst as other "healthcare" providers head in the opposite direction, sometimes even blocking their way.
The Dunkirk boat captains saw that event as a high point in their lives, a peak experience, the kind that makes life worth living. When they were in the middle of it though, as the film showed, they had no idea if they would come through; no clue they would succeed in their mission. The miracle was only evident in retrospect. Neither do those of us working to establish a palliative care culture know if we will succeed. We persist because we believe passionately in what we do, and believe that what we do matters, just as the boat captains who set sail for Dunkirk believed in their unlikely mission.
As Mark Rylance's character said when he refused to obey a shell shocked soldier he had rescued, who ordered him to "go home" rather than continue the mission to Dunkirk, "there will be no home if we don't do this." Likewise there will be no home, no decent society, if governments don't support palliative care programs wherever they are needed.
Our teachers and mentors are, of course, our patients, those who rely on our skill and commitment to have as many quality days as possible in the time left them, even when hope for a "cure" is faint. As a volunteer, I am privileged to accompany dedicated palliative care teams in Uruguay, Kampala, Kerala, Buenos Aires, Minsk, and San Diego to visit patients. I can't help but imagine how those patients and families' lives would be without those visits, knowing we are seeing only a handful of those in need. It's the ones we can't see, the invisible ones in the shadows, who keep me doing what I do, who send me out in my little boat each and every day, to advocate for global palliative care culture, trusting in the One who calms the waters when necessary.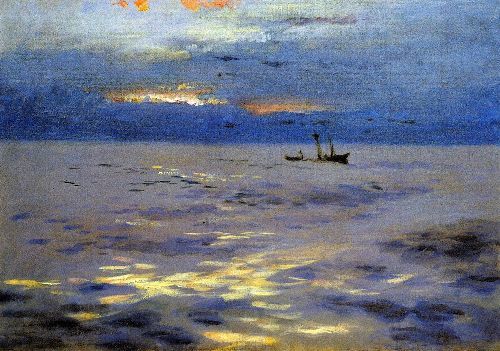 One thing "Dunkirk" does not mention, was that King George VI had called for a National Day of Prayer the day before the rescue mission began. According to columnist John Williams, "In a national broadcast he instructed the people of the UK to turn back to God in a spirit of repentance and plead for Divine help.  Millions of people across the British Isles flocked into churches praying for deliverance and this photograph shows the extraordinary scene outside Westminster Abbey as people queued for prayer.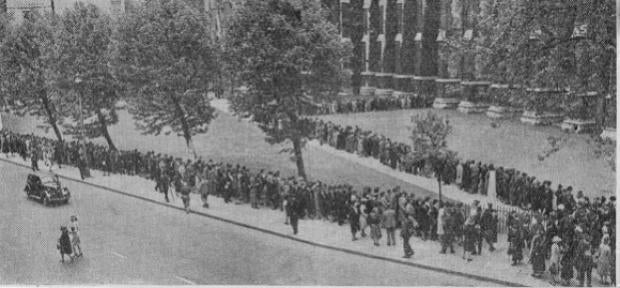 Crowds queuing for prayer outside Westminster Abbey. 1940.
Two events immediately followed. Firstly, a violent storm arose over the Dunkirk region grounding the Luftwaffe which had been killing thousands on the beaches. And then secondly, a great calm descended on the Channel, the like of which hadn't been seen for a generation, which allowed hundreds of tiny boats to sail across and rescue 335,000 soldiers, rather than the estimated 20-30,000. From then on people referred to what happened as "the miracle of Dunkirk"."
Palliative care doesn't command dramatic, desperate, Days of Prayer and heroic rescue missions. Its miracle is wrought daily, in Ordinary Time, through the countless anonymous acts of compassion provided at the bedside. Their cumulative transformative power will be visible only decades into the future, when palliative culture has taken root and the service is a taken for granted by everyone who needs it anywhere on earth.