May 11, 2017
The butterfly effect describes a process whereby very small, insignificant acts can create large, macro changes at another point in time. In the grand scheme of things, a palliative care team's attention to an individual patient and family at the bedside is a small insignificant act. Yet I would argue that, cumulatively, such attention is catalysing the the development of palliative care policies and the evolution of consciousness more broadly.
Fr. Pierre Teillhard de Chardin, the Jesuit priest and paleontologist who discovered "Peking Man," describes evolution as a process of increasing convergence, complexity, and consciousness, primarily a "psychical transformation," which culminates in the universe becomes conscious of itself.
"Refracted rearwards along the course of evolution, consciousness displays itself qualitatively as a spectrum of shifting shades whose lower terms are lost in the night." (Phenomenon of Man)
Palliative care is a medical discipline that demands its practitioners develop habits of reflection. Reflexivity builds complexity and is unthreatened by convergence. Practitioners are compelled to become more conscious of themselves in order to manage the complexity (often chaos) during the end of life process. Becoming conscious of oneself requires the courage to be with, to live into the truth of such suffering, no matter how unpalatable or dis-grace-ful (devoid of grace). Only through acceptance can such pain be transformed, alchemized, healed by grace, (etymologically related to gratitude for Being itself). One bedside at a time, the courage, friendship, and honesty emblematic of best practice palliative care teams, can heal the global pandemic of untreated pain — the geo-political gap in access to pain medicine, the suffering/dying friend that is our other self (Aristotle).
The palliative care providers I met on my trip in Uruguay and Argentina exemplify the evolutionary ethos of service and clinical excellence.  They are eager to grow, to provide spiritual care as an essential component of whole person care. To that end, the Uruguay Palliative Care Association is planning a working group to study how to identify and relieve spiritual suffering. Uruguay is a tiny country, with a predominantly secular, relatively affluent society whose publicly funded palliative care service routinely offers psycho-social and pharmaceutical remedies for pain, but lacks a consistent spiritual care component.  The Archbishop of Montevideo, Cardinal Daniel Sturla, was very supportive of palliative care when we met earlier this month, as was Fr. Daniel Kerber, PhD, who sometimes sees palliative patients with Dr. Laura Ramos.  As President of the Uruguay Palliative Care Association, Dr. Ramos will be collaborating with Fr. Kerber to organise the national spiritual care initiative.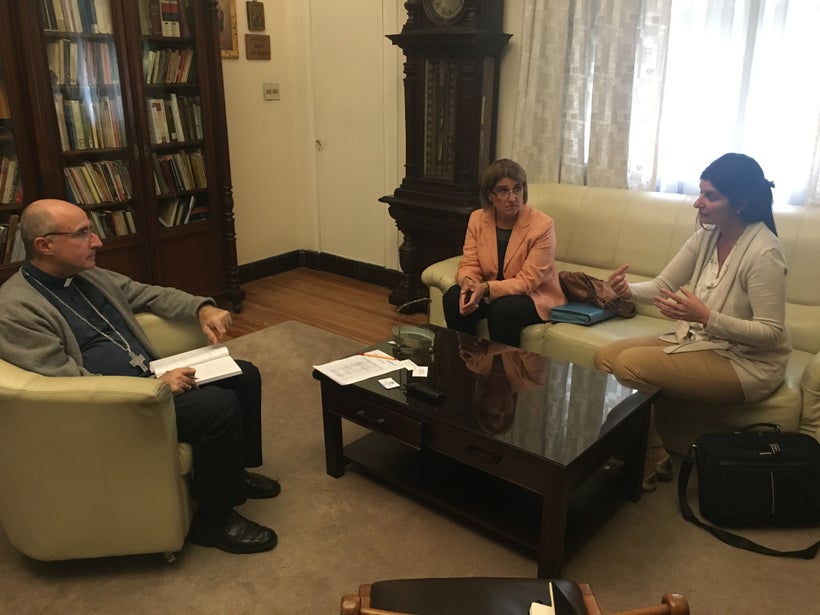 Monsignor Daniel Sturla, Cardinal of Uruguay, with Drs. Gabriela Piriz and Laura Ramos, President of the Uruguay Palliative Care Association
Integrating spiritual components into the development of public health palliative care practice will ensure the transformation of providers, patients, caregivers, health policy, and eventually society as a whole, into one that values and tends the vulnerable Other.  Such palliative care catalyses collective metanoia and evolution: it holds a mirror to the universe as it becomes conscious of itself.