February 20, 2017
World Day of the Sick is a Feast Day of the Roman Catholic Church, instituted by Pope John Paul II in 1992 at Lourdes. In 2007, Pope Benedict XVI used the occasion to call for more palliative care for the sick and the dying. Sr. Tarcisia Hunhoff, a member of the Missionary Sisters, Servants of the Holy Spirit, has heeded that call, and having "retired" after her 80th birthday, will be setting up the first palliative care center in Port Moresby.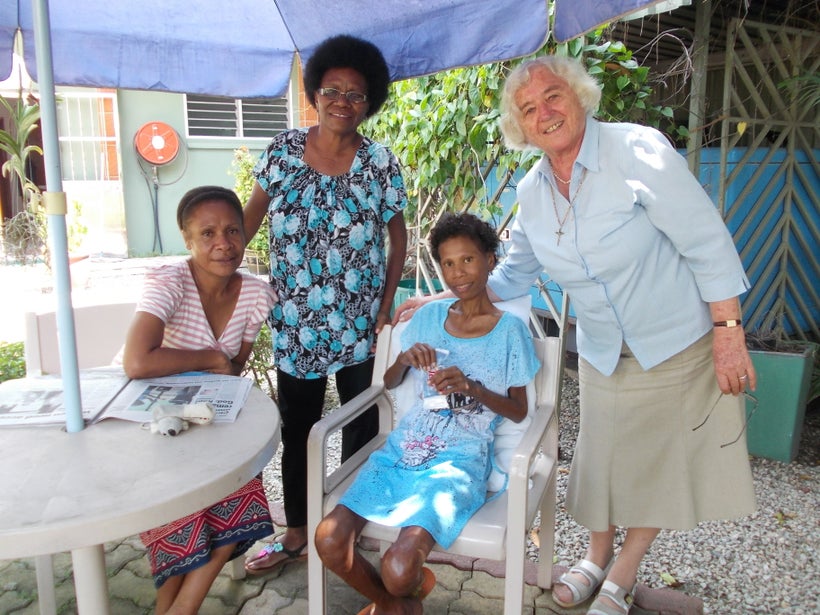 Sr. Tarcisia's religious order has been in PNG since the turn of the 20th century, and she has worked there since 1960. When the HIV epidemic exploded in the early 2000's, she devoted herself to the counselling, testing, training of health care workers throughout the country, traveling several times to Africa to learn about how countries there were handling the epidemic.
A former Dutch, German, British, and then Australian colony with an active slave trade during the late nineteenth century, Papua New Guinea has the highest rates of HIV infection in the region, with escalating rates of TB, HCV and sexually transmitted infections. These public health issues flourish in a post-colonial society plagued by gender based violence, teen pregnancy, and a poor healthcare system. Sr. Tarcisia says, "That's the situation in a nutshell. It is quite as distressing as it sounds."
Like young people everywhere, PNG youngsters are searching for a better life, especially in Port Moresby, the capitol, which like many modern cities, is a magnet for urban drift marked by social disintegration. Sr. Tarcisia says, "We find our HIV/TB patients, often totally neglected and left alone to die, in the city and its outskirts. Catholic Health Care Services provides counselling, testing, and ART for over 70,000 clients a year, and has a very effective mother-to-child prevention program."
Yet with so much life limiting illness, PNG has no palliative care facility. Palliative care, a relatively new medical specialty that seeks to improve the quality of life of patients and families with serious illness, was almost unheard of until Sr. Tarcisia approached the Department of Health with this new idea for total care. Palliative care includes pain and symptom relief, as well as social and spiritual support when cure is no longer an option. She says, "The idea for the proposed Palliative Care Centre in Port Moresby grew out of utter distress of being unable to do what needs to be done for these neglected and stigmatised human beings, lying on the floor in a corner with no basic care."
It has taken her some years to get started with the new building, called " The Supportive Living Project," because of the cultural belief in evil Sprits of the Dead, which is still very strong in PNG. The Australian Government has provided AUS $3.5 million for construction, and the PNG Department of Health will finance staff salaries and clinical supplies. Building Board permission is in the pipeline and expected any time.
Sr. Tarcisia says, "I consider this my last project since I have passed my 80th Birthday. I can only hope and pray that the Centre will be a model program, and that palliative care receives the emphasis and the finances it needs. Asked about palliative care and faith, she responds: "serving the poor has been a very rich experience for me personally. One receives more as one gives. I also hope it makes it clear to our simple people what Christianity is all about. Pope Francis is a strong advocate and knows from experience what it means to live in a desperate situation."
I would like to thank you for promoting total care, especially to the poor and underprivileged.
Best wishes and God bless, Sr. Tarcisia, Hunhoff SSPS.